US comedian Bill Cosby has left prison hours after his sexual assault conviction was overturned by Pennsylvania's Supreme Court.
The judges said there had been a "process violation" by the prosecution, but admitted their ruling was unusual.
Mr Cosby, 83, served more than two years of a three to 10-year sentence at a state prison near Philadelphia.
In 2018 he was found guilty of drugging and molesting ex-basketball player Andrea Constand.
Mr Cosby is best known for starring in the 1980s TV series The Cosby Show and was once known as "America's Dad".
Dozens of women have publicly accused Mr Cosby of sexual assault, but he was only tried criminally for the incident against Ms Constand. His conviction in 2018 was widely seen as a landmark moment in the #MeToo movement.
Cosby's conviction was overturned on a legal technicality. In chaotic scenes outside his house, members of his legal team shouted out comments such as "crooked judge", "crooked district attorney" and one individual, who could not immediately be identified, called out "what we saw today is justice", at which Cosby nodded his head.
Advocates for victims of sexual crimes and women who have accused Cosby of assaulting them, however, were incandescent.
"We are deeply disappointed in today's ruling by the Pennsylvania supreme court, and by the message this decision sends to the brave survivors who came forward to seek justice for what Bill Cosby did to them. This is not justice," said Scott Berkowitz, the president of Rainn, a leading US organization campaigning against sexual violence.
Victoria Valentino, who accused Cosby of assaulting her, told CNN that she was "absolutely shocked, stunned" by the court's decision.
"It's a gut-punch. What does it say about women's words, a woman's value, all the lives that he damaged? It's outrageous. I'm infuriated," she said.
Lawyer Gloria Allred, who represented many of Cosby's accusers, said the decision must be "devastating" for those women.
"My heart especially goes out to those who bravely testified in both of his criminal cases," she said.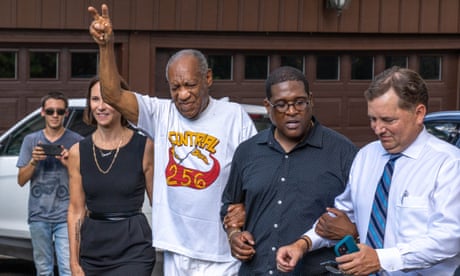 Writing for a panel of state supreme court judges, Judge David Wecht said the court made its decision after finding an agreement with a previous prosecutor prevented Cosby from being charged.
The judges wrote that a "non-prosecution agreement" had been struck, and barred the case from retrial.
Constand alleges she was drugged by Cosby into unconsciousness in his home, and woke on his couch to find her pants unzipped and bra out of place after previous unwanted sexual advances. Cosby claimed to have given Constand Benadryl, and that any interaction was consensual.
According to court documents, the prosecutor, the prominent and controversial Pennsylvania Republican Bruce Castor, never told Constand of his decision to permanently forgo prosecuting Cosby in criminal court. Despite this, the court ruled in Cosby's favor on Wednesday.
He was charged in late 2015, when the district attorney, Kevin Steele, armed with newly unsealed evidence – Cosby's damaging deposition from her lawsuit – arrested him days before the 12-year statute of limitations expiredand asserted that he was not bound by Castor's agreement.
On Wednesday, the state supreme court disagreed. The justices ruled that Cosby relied on that promise that he would not be prosecuted when he agreed to testify without invoking his fifth amendment right against self-incrimination in a lawsuit brought against him by Constand.
During a court hearing weeks after Cosby's 2015 arrest, Castor testified that he promised Cosby he wouldn't be prosecuted in the hopes that it would persuade the actor to testify in a civil case brought by Constand and allow her to win damages.
Castor acknowledged the only place the matter was put in writing was in the 2005 press release announcing his decision not to prosecute, but said his decision was meant to shield Cosby from prosecution "for all time."
His successor noted, during the appeal arguments, that Castor went on to say in the press release that he could revisit the decision in the future.
Castor was later heavily criticized by victims' advocates over what they regarded as reticent law enforcement in several high profile sexual predation cases.
The 83-year-old Cosby had been incarcerated at SCI Phoenix, a state prison outside Philadelphia, after a jury convicted him in 2018 of three aggravated indecent assault counts –– and the court deemed the inmate a "sexually violent predator" who posed an "imminent safety risk to women".
One accuser was allowed to testify in Cosby's first trial in 2017, and the jury was deadlocked. A trial judge then allowed five additional accusers to testify in a retrial, who had similar alleged experiences with him in the 1980s.
Cosby's lawyers challenged the judge's decision to let prosecutors call the other accusers, and also noted that he had an agreement with a former prosecutor saying he would never be charged.
Cosby was the first celebrity tried and convicted in the #MeToo era, so the reversal could make prosecutors wary of calling other accusers in similar cases. The law on prior bad act testimony varies by state, though, and the ruling only holds sway in Pennsylvania.
In May, Cosby was denied parole after refusing to participate in sex offender programs during his nearly three years in state prison. He has long said he would resist the treatment programs and refuse to acknowledge wrongdoing even if it meant serving the full 10-year sentence.
Cosby, a groundbreaking Black actor who grew up in public housing in Philadelphia, made a fortune estimated at $400m during his 50 years in the entertainment industry. His trademark clean comedy and homespun wisdom fueled popular TV shows, books and his standup act.
He fell from favor in his later years as he lectured the Black community about family values, but was attempting a comeback when he was arrested.
Wednesday's court decision is regarded as an extremely rare one.